Appassionati di moda ben ritrovati con le notizie più interessanti provenienti del fashion blog. Oggi scopriremo chi sono le modelle ucraine famose, le donne più belle dell'ex nazione sovietica che sono riuscite con la loro bellezza e bravura a conquistare le passerelle più importanti della moda mondiale.
Sullo stesso stile del post dedicato alle modelle russe famose andremo ad offrirvi la selezione completa delle modelle ucraine corredata da immagini e descrizioni.
Modelle ucraine più seguite
Dasha Astafieva
Questa bellezza è una popolare modella nata in Ucrainanel 1985. Oltre alle sfilate di moda è divenuta celebre per essere membro della pop band chiamata NikitA.
Ha posato più volte per la rivista Playboy di cui è stata anche playmate ufficiale.
Milla Jovovich
Questa bellezza è una popolare super modella, attrice, musicista e stilista americana. È nata il 17 Dicembre 1975 nella capitale dell'Ucraina, Kiev.
Suo padre è di origine serba mentre la madre è ucraina-russa. I suoi film più popolari includono The Fifth Element, Return to the Blue Lagoon, la serie Resident Evil e Zoolander.
Secondo la rivista Forbes è stata tra le modelle più pagate al mondo.
Inna Tsymbalyuk
Inna Anatoliivna Tsymbalyuk è un'attrice e modella ucraina. Ha vinto il titolo di Miss Universo – Ucraina nel corso del 2006, classificandosi tra le più belle 20 ragazze al mondo durante l'edizione di quell'anno.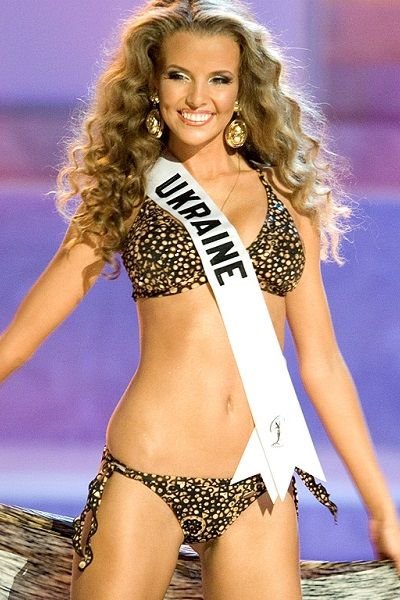 Olga Kurylenko
Olga Kurylenko è una attrice e modella ucraina naturalizzata francese. È nata il 14 novembre 1979 a Berdiansk in Ucraina.
Inizia la sua carriera come modella quando viene scoperta all'età di 13 anni. Poi nel corso del tempo diviene una bravissima attrice ed inizia questa seconda parte di carriera nel 2005.
Il suo più grande successo cinematografico risale all'interpretazione di Nika Boronina in Hitman nel 2007. Successivamente, è stata una figura di spicco nella fotografia di moda e ha recitato al fianco di James Bond / Daniel Craig nel film Quantum of Solace nel 2008.
Lista delle modelle ucraine famose
A
Anna Andres
Dasha Astafieva
B
Larisa Bakurova
Lyudmila Bikmullina
Natalie Burn
D
Veronika Didusenko
Anna Durytska
H
Diana Harkusha
Leonila Guz
K
Kamaliya
Iana Kasian
Oksana Kononets
Elena Kosmina
Khrystyna Kots-Hotlib
Yana Krasnikova
Vika Kuropyatnikova
Olga Kurylenko
Alexandra Kutas
O
Snejana Onopka
Alyona Osmanova
S
Viktoriya Sasonkina
Olesya Stefanko
Khrystyna Stoloka
T
Polina Tkach
Inna Tsymbalyuk
Evheniya Tulchevska
Z
Anna Zayachkivska
Karyna Zhosan
Iryna Zhuravska
Le foto più belle
Conclusioni
Sperando di avere risposto alle vostre domande ed avere limato alcuni i dubbi alle modelle ucraine famose, restiamo in attesa dei vostri preziosi suggerimenti per ampliare la selezione. Fateci sapere cosa ne pensate utilizzando lo spazio commenti o la pagina contatti.
Il nostro indirizzo email è: info@modellefamose.com
Per il momento è tutto. Alla prossima con le migliori news dal mondo del fashion!