Amici di Modelle Famose siamo pronti a presentarvi un nuovo articolo inerente il mondo della moda. Oggi vi parleremo delle modelle inglesi famose offrendovi una lunghissima selezione di oltre 300 nomi che comprende alcune delle donne più belle, celebri e popolari che posseggono il passaporto inglesi.
Tra queste troverete alcune supermodelle di Victoria Secrets come Naomi Campbell e Kate Moss, bellezze del passato e del presente come Cara Delavigne.
Insomma un mix brillante di bellezze uniche nel loro genere.
Modelle più seguite
Kate Moss
Kate Moss è una modella inglese per antonomasia. Probabilmente ancora la più famosa e chiacchierata nonostante la carta d'identità un pò datata. La Moss nasce infatti il 16 Gennaio 1974 in un sobborgo di Londra. Scoperta per caso da uno scout, Kate Moss diventa molto famosa nei primi anni '90 come parte della tendenza della eroina chic dei marchi d moda.
Ma è grazie alle collaborazioni con il brand di moda Calvin Klein che Kate spicca il volo per la celebrità e la ricchezza. E' conosciuta per la sua figura da waifish e il suo ruolo nella moda taglia zero.
Ha ricevuto un premio ai British Fashion Awards 2013 come riconoscimento del suo contributo al mondo del fashion per oltre 25 anni.
Moss è anche un redattore di moda per British Vogue. Nel 2012, è arrivata seconda nella lista delle modelle più ricche stilata da Forbes. I suoi guadagni toccavano la cifra di $ 9,2 milioni in un anno. 
Infine è stata la regina della copertine scandalistiche per via delle sue storie d'amore travagliate con divi della musica e del cinema come: Jonny Depp, Pete Doherty, Jamie Hince.
Naomi Campbell
Naomi Campbell è una supermodella inglese, ultra popolare nel corso degli anni 90 e 2000. Nata il 22 maggio 1970, Naomi Campbell è divenuta nel corso della sua carriera una vera icona di bellezza.
Iniziò da giovanissima all'età di 15 anni affermandosi tra le prime tre modelle più richieste.
Si può dire che nel periodo finale degli anni '80 e per praticamente tutti gli anni '90, Naomi Campbell ha posato per i migliori fotografi del mondo della moda nel mondo e sfilato per i brand più importanti e cool.
Dolce & Gabbana, Versace, Valentino facevano la fila per contendersi il suo fisico mozzafiato e la sua bellezza unica nel suo genere.
Cara Delavigne
Cara Delevingne è una modella inglese nata il 12 agosto 1992. Super popolare nel mondo della moda contemporaneo, oltre che sulle passerelle si diletta anche nel mondo del cinema dove ha già interpretato alcuni ruoli cinematografici.
La sua carriera iniziato dopo avere lasciato la scuola nel 2009 grazie ad un contratto firmato con l'agenzia di moda: Storm Model Management.
Nel 2012 Cara Delevingne ha vinto il premio "Modella dell'anno" ai British Fashion Awards. Da quel momento la sua carriera è decollata grazie a campagne pubblicitarie per top brand mondiali come: Burberry, Mulberry, Dolce & Gabbana e Jason Wu.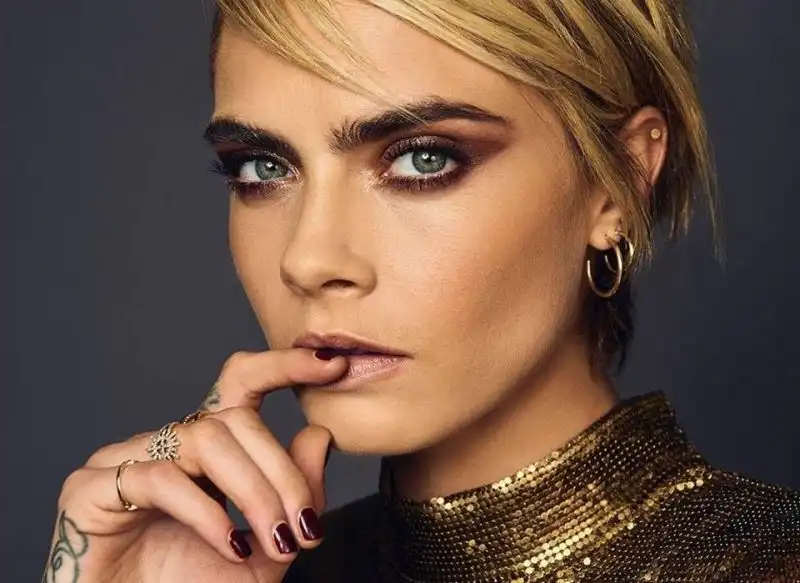 Amy Jackson
Amy Jackson è una modella inglese nata il 31 gennaio 1992 con la passione per il cinema. Ha recitato in diversi film è indiani.
Ha iniziato a fare la modella all'età di 16 anni, vincendo il concorso Miss Teen World 2009 e il titolo Miss Liverpool 2010, anche se la sua carriera partì a pieno ritmo al termine della scuola.
Amy è stata sulla copertina di Vogue, Marie Claire e Cosmopolitan. Il suo profilo Instagram vanta ben 8,6 milioni di follower ed un mix di scatti professionali e di vita privata.
https://www.instagram.com/p/B8587-Tpz9Y/
Jourdan Dounn
Jourdan Dunn è una famosa modella inglese nata il 3 Agosto del 1990.
E' certamente tra le top model inglesi più famose e apprezzate del panorama britannico. Jourdan è stata scoperta da un agente di moda nel 2006 presso il Primark di Hammersmith che la portò a firmare un accordo con la prestigiosa agenzia di moda londinese Storm Model Management.
Ha iniziato ad apparire sulle passerelle internazionali all'inizio del 2007 e diviene personaggio di spicco di grandi brand tra cui Prada Milano. Successivamente venne scelta come il nuovo volto di Maybelline New York, noto marchio di cosmetica.
Fama e carriera crescono a forte velocità e così anche i suoi guadagni. Nel 2014 la nota rivista finanziaria Forbes, ha inserito Jourdan Dunn nella classifica delle modelle più pagate stimando le entrate della bella inglese in circa $ 4 milioni all'anno.
È apparsa sulla copertina di febbraio di British Vogue nel 2015, diventando la prima "solo model nera" ad apparire sulla copertina in 12 anni.
Dunn fa parte di un piccolo gruppo d'élite di modelle moderne considerate come le top model di questa generazione.
Eve Delf
Eve Delf è una modella inglese di 23 anni originaria dell'Est Sussex. Tra le sue particolarità il volto spigoloso che si addolcisce per merito dei grandi occhi chiari, divenendo unico nel suo genere.
E' un noto volto per i marchi di moda ingles Vivienne Westwood e Kooples, brand di tendenza giovanile. Sicuramente è in lizza per divenire una tra le più celebri modelle inglesi della sua generazione.
Staremo a vedere.
Lista delle modelle inglesi famose
Di seguito troverete la lista delle top model di nazionalità inglese più famose di sempre. I nomi presenti in questa selezione sono tutti di prim'ordine e siamo certi che diversi di questi porteranno in vita memorie del passato.
Oltre alle modelle più seguite e celebri indicate precedentemente, troverete innumerevoli bellezze femminili che per tanti anni hanno illuminato le riviste di moda oltre che gli show delle sfilate nel mondo.
La lista è lunga ed affascinante, ma certamente non definitiva. Ci riserviamo di aggiornarla periodicamente per offrivi le migliori informazioni sul web.
Buona lettura.
A
Maggie d'Abo
Adwoa Aboah
Kesewa Aboah
Jill Adams
Karima Adebibe
Modupe Adeyeye
Sophia Ahrens
Saffron Aldridge
Julie Alexander
Katie Amess
Susie Amy
Leomie Anderson
Sophie Anderton
Vanessa Angel
Layla Anna-Lee
Melanie Appleby
Emma Appleton
Olivia Arben
Primrose Archer
April Ashley
Sylvia Ashley
Bronwen Astor
Emily Atack
Gemma Atkinson
Afshan Azad
B
Bunty Bailey
Laura Bailey (model)
Lacey Banghard
Tanya Bardsley
Mischa Barton
Michelle Bass
Joan Bates
Baba Beaton
Nancy Beaton
Harriadnie Beau
Michelle Behennah
Kelly Bell
Gale Benson
Munroe Bergdorf
Angie Best
Martine Beswick
Esmé Bianco
Lucy Birley
Sophie Blake
Liv Boeree
Cressida Bonas
Pat Booth
Francoise Boufhal
Olivia Buckland

Sally Anne Bowman

Jenny Boyd
Pattie Boyd
Sarah Branch
Anna Brewster
Lydia Bright
Kelly Brook
Millie Bobby Brown
Florence Brudenell-Bruce
Tania Bryer
Pauline Bull
Anna Burdzy
Laura Cavendish, Countess of Burlington
Darcey Bussell
Lisa Butcher
Scarlett Byrne
C
Rachael Cairns
Isabella Calthorpe
Edie Campbell
Jean Campbell (model)
Olympia Campbell
Veronica Carlson
Katie Carr
Rachael Carr
Eva Carrington
Alison Carroll
Ella Catliff
Georgina Chapman
Lady Mary Charteris
Lorraine Chase

Aimee Cheng-Bradshaw

Alexa Chung
Lucy Clarkson
Hannah Claydon
Lily Cole
Marilyn Cole
Laura Coleman
Lily Collins
Hermione Corfield
Caroline Cossey
Nathalie Cox
Veronica Ann Cross
Hazel Crowney
Eliza Cummings
Jessica Cunningham
Alex Curran
Georgiana Curzon
D
Baba, Baroness d'Erlanger
Sophie Dahl
Eileen Daly
Tess Daly
Holly Davidson
Candy Davis
Carole Davis
Jen Dawson
Anita De Bauch
Maxime de la Falaise
Michelle de Swarte
Cat Deeley
Cara Delevingne
Poppy Delevingne
Dorothy Dene
Preeti Desai
Agyness Deyn
Alesha Dixon
Dolores (Ziegfeld girl)
Lily Donaldson
Lesley-Anne Down
Sonny Drane
Charlet Duboc
Caroline Duffy
Jourdan Dunn
Anulka Dziubinska
E
Tamsin Egerton
Gail Elliott
Jennifer Ellison
Karen Elson
Kate Elson
Emma B (model)
Maria Eriksson
F
Bobo Faulkner
Barbara Ferris
Malaika Firth
Helen Flanagan
Florrie
Gilly Flower
Georgia May Foote
Maria Fowler
Samantha Fox
Foxes (singer)
Narissara France
Georgia Frost
Jenny Frost
G
Peaches Geldof
Pixie Geldof
Paula Gellibrand
Louise Germaine
Louise Glover
Eleanor Glynn
Barbara Goalen
Lauren Gold
Jane Goldman
Abigail Good
Lucy Gordon (actress)
Mia Goth
Alexina Graham
Nikki Grahame
Katie Green
Pamela Green
Sam Grey
Kate Groombridge
Sienna Guillory
Jamie Gunns
H
Lizzie Haines
Paula Hamilton
Celia Hammond
Tania Harcourt-Cooze
Tallulah Harlech
Deirdre Hart-Davis
Domino Harvey
Keeley Hawes
Chanelle Hayes
Stacey Hayes
Chloe Hayward
Keeley Hazell
India Hicks
Nifa and Nishan Hindes
Katrina Hodge
Vicki Hodge
Victoria Holdsworth
Zara Holland
Linda Hooks
Sandra Howard
Susanna Hunt
Rosie Huntington-Whiteley
Rachel Hurd-Wood
Elizabeth Hurley
Mumtaz Hussain (solicitor)
Deborah Hutton (Australian editor)
J
Amy Jackson
Charlotte Jackson
Elizabeth Jagger
Georgia May Jagger
Maddison Jaizani
Jameela Jamil
Jentina
Jodie Turner-Smith
Gia Johnson
Samantha Juste
K
Christine Keeler
Jill Kennington
Patsy Kensit
Cinsyla Key
Amena Khan
Jemma Kidd
Jodie Kidd
Alexandra Kitchin
Myleene Klass
Kelly Knox
L
Lady Emily Compton
Anya Lahiri
Amanda Lamb
Penny Lancaster
Harriotte Lane
Jocelyn Lane
Lesley Langley
Kate Lawler
Iskra Lawrence
Amber Le Bon
Yasmin Le Bon
Rebecca Le'gon
Alex Leigh
Chrystabel Leighton-Porter
Jasmine Lennard
Tali Lennox
Asha Leo
Grace Levy
Staz Lindes
Zania Linton
Dua Lipa
Cher Lloyd
Chloe Lloyd
Sue Lloyd
Daisy Lowe
Matilda Lowther
Jane Lumb
Joanna Lumley
M
Emma Maclaren
Chloe Madeley
Rebecca Mader
Amrit Maghera
Irène Major
Tania Mallet
Emily Mann (model)
Lady Alice Manners
Lady Violet Manners
Stephanie Marrian
Michelle Marsh
Cherry Marshall
Chloe Marshall
Dolly Martin
Michelle Massey
Nyasha Matonhodze
Sarah Matravers
Dinah May
Nell McAndrew
Vicky McClure
Kim McLagan
Nicola McLean
Lily McMenamy
Jade McSorley
Nimisha Mehta
Gemma Merna

Nicole Merry

Valerie Mewes
Heather Mills
Rhona Mitra
Debbie Moore
Julia Morley
Oreke Mosheshe
Kate Moss
Hannah Motler
Sue Moxley (television presenter)
Lara Mullen
Caroline Munro
Jaime Murray
Shannon Murray
N
Victoria Nixon
Emma Noble
Margaret Nolan
Giselle Norman
O
Tina O'Brien
Mary-Ann Ochota
Erin O'Connor
Funda Önal
Carolyn Owlett
P
Sassy Pandez
Jade Parfitt
Lilah Parsons
Lorraine Pascale
Vicky Pattison
Jerry-Jane Pears
Kayleigh Pearson
Suzi Perry
Alexis Peterman
Natalie Pike
Lucy Pinder
Tiffany Pisani
Imogen Poots
Sophie Porley
Jorgie Porter
Suki Potier
Bridget Poulett
Katie Price
R
Charlotte Rampling
Hannah Al Rashid
Anthea Redfern
Alix Wilton Regan
Mandy Rice-Davies
Katy Louise Richards
Gabrielle Richens
Emma Rigby
Jasmia Robinson
Pamela Rooke
Liberty Ross
Thekla Roth
Samantha Rowley
Maria Rubia
S
Sabrina (actress)
Sade (singer)
Hollie-May Saker
Kelly Salmon
Samanda
Hayley Sams
Angela Saunders
Kaya Scodelario
Kathy Secker
Danielle Sharp
Judi Shekoni
Georgina Sherrington
Chrissie Shrimpton
Jean Shrimpton
Ann Sidney
Nikki Sievwright
Susie Silvey
Alex Sim-Wise
Kadamba Simmons
Rita Simons
Romy Simpkins
Chloe Sims
Alice Sinclair
Ella-Rae Smith
Madeline Smith
Lisa Snowdon
Nancy Sorrell
Lady Kitty Spencer
Venetia Stevenson
Heather Stewart-Whyte
Sara Stockbridge
Miranda, Countess of Stockton
Lara Stone
Paulene Stone
Victoria Summer
April Summers
Fran Summers
Sophie Sumner
Melanie Sykes
T
Rosie Tapner
Nichola Theobald
Sarah Thomas (model)
Danica Thrall
Emma Thynn
Eleanor Tomlinson
Debbie Travis
Penelope Tree
Daisy Turner (actress)
Twiggy
V
Denise van Outen
Ulorin Vex
W
Hannah Ware
Louisa Warwick
Imogen Waterhouse
Suki Waterhouse
Emma Watson
Carley Watts
Charlie Webster
Rachel Weisz
Jacquetta Wheeler
Audrey White
Chelsea White
Amy Willerton
Holly Willoughby
Nicola Willoughby
Lady Amelia Windsor
Sammy Winward
Jo Wood
Bonnie Wright
Gabriella Wright
Jess Wright
Foto più belle
Conclusioni
Sperando di avere risposto alle vostre domande ed avere limato alcuni i dubbi alle modelle inglesi famose, restiamo in attesa dei vostri preziosi suggerimenti per ampliare la selezione. Fateci sapere cosa ne pensate utilizzando lo spazio commenti sotto il post o tramite la pagina contatti.
Il nostro indirizzo email è: info@modellefamose.com
Per il momento è tutto. Alla prossima con le migliori news dal mondo del fashion!